Batteries are your lifeline when out on the force. You know the feeling of looking at your radio and it's not powering on. Having a battery that you can count on in emergency situations is critical for a successful operation. Each two-way radio has a rechargeable battery included and charging times differ from the manufacturer and the type of radio.
In this section, we will review everything you should (and NEED to) know when it comes to two-way radio batteries.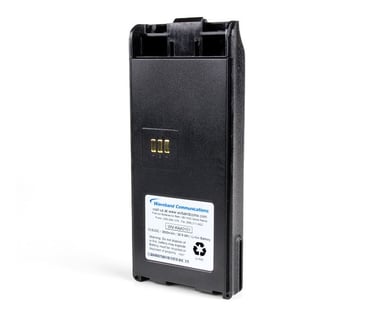 Lets start with Battery Types
Four types of portable batteries are listed below,
Choosing the correct battery type is important and differ among your communication needs.
Nickel Cadmium
This type of battery performs best in extreme hot and cold temperatures. You don't need to worry about leaving the battery for a long period of time because these types of batteries have a great shelf life. What that means is you can leave the battery sitting for a while and it will still perform at peak potential.
Now like everything, they have their advantages and disadvantages. We will discuss them now.
Advantages
Very durable, can be dropped.

Over 1000 charge and discharge cycles.

Available in different sizes.
Disadvantages
Low energy density compared to newer systems.

NOT environmentally friendly. Contains toxic metals and is limited in some countries.

Needs to be recharged after stored for a long period.
Nickel Metal Hydride
These batteries are the next step up from nickel cadmium with 30% to 40% more capacity. Below are advantages and disadvantages of this type of battery.
Advantages
Simple storage and transport.

Environmentally friendly, only contains mild toxins.
Disadvantages
20% more expensive than Ni-Cd because they are designed for high draw.

Limited service life, Only 200-300 cycles before the performance begins to deteriorate.

High Maintenance, these batteries do require a full discharge to prevent crystalline formation.
Lithium-ion batteries
These batteries are lighter and provide a higher capacity for a longer run time. The advantages and disadvantages are found below.
Advantages
High energy density with potential for higher capacities

Relatively low self-discharge

Low maintenance. No periodic discharge needed because it has no memory effect
Disadvantages
Requires circuit protection. Circuit protection limits the voltage and current.

Subject to aging even if not being used. Place in a cool place at 40% charge to reduce these aging effects

Expensive to manufacture. Greater than 40% in cost to manufacture compared to Ni-Cd
Lithium-Ion Polymer (Li-Po)
This type of battery has the highest capacity with no memory effect. They are typically used by law enforcement personnel because the batteries produce extended talk times which is ideal for stakeouts or undercover investigations. Many other personnel who use lithium ion batteries are people who require long battery life like casino security, military and investigative task force.
This type of battery has now been popular in powering drones and are found in mostly all of today's cell phones. They deliver high power and discharge quickly for a short period of time.
Advantages
Disadvantages
Lower energy density and decreased cycle count

Expensive to manufacture once this battery becomes mass produced. The battery reduces control circuit so it offsets higher manufacturing costs.
Batteries for Different Environments
Firefighters risk their lives every day running into burning houses and rescuing members of their community. The last thing on their mind is their radio batteries. Firefighters are exposed to environments where their is flammable gas and dust so its required they use equipment that is intrinsically safe.
Intrinsically safe batteries are specifically designed to not allow for generation of heat or spark. This eliminates the risk of the batteries causing an explosion or igniting flame.
Although intrinsically safe batteries are critical for fire fighters, they are not the only ones who use intrinsically safe products. You will often see miners and oil refinery workers using intrinsically safe products.
Battery Care
Caring for your battery is important to get the longest life and best performance from it.
Charge the battery to full capacity, wait till 100% charged before using again.

Use the battery soon after charge and use as much of the capacity as possible.

Several discharges and charges are recommended to bring a new battery up to rated capacity.

Store and charge batteries at room temperature (

65˚F to 75˚F)

Reduced capacity or "memory effect" may result from repeated identical shallow discharge/full recharge cycles. If such a condition is suspected, run the battery until the instrument loses all power, then fully recharge and discharge again. Repeat this cycle 3-4 times. Full usable capacity then becomes available.

The right charger will help keep your two-way radio battery functioning properly. Many of the chargers have specialized microprocessors and algorithms that can read the chemistry of the batteries. (Ni-Cd, Ni-Mh or Li-Ion) These specialties in the chargers allow for precise, maximum-capacity conditioning charge every time.
Chargers have replacement pods that allow for the changing of hundreds of different radio models and batteries. The pods are replaceable which allows the charger to still be used when charging future radios. Most changers are able to charge the battery with or without the radio attached.
Types of Chargers
In-vehicle Chargers
If your job constantly has you on the road and still needing to communicate, in-vehicle chargers are available. These chargers have vehicle power adapters that plug into the cigarette outlet in the car. Metal mounting brackets and tie-down straps are included to keep the charger in place in the car. These chargers come in handy with police or other personnel on long shifts that need the radio for long periods of time.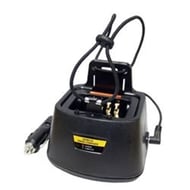 6 Bank Chargers
This slim fit design charges 6 batteries at a time. Replaceable pods allow for different radio batteries and long lasting charger.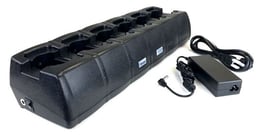 Single Bank Chargers
This single bank charger charges one battery at a time and is the perfect size to sit on a desk.
Analyzers/ Conditioners
Analyzers will charge, condition, and analyze your radio batteries. Analyzing batteries will tell users how much life the battery has left and if the battery should be replaced. The video below will give you more detail on analyzers and the specifications.
Charge Time
The charge time for batteries is about 2-4 hours depending on battery capacity. Fast charge time is important because many people rely on communication at all times so waiting a long time for a battery to charge is not ideal.
Charger LED Indicator
Some chargers are designed to show an LED indication of the charging status and fault conditions. Found in the chart below, charging status is indicated by green, red and orange colors while the fault conditions are a flashing red indicating a problem with the battery.
Solid Orange: Performing battery diagnostics
Solid Red: Battery charging, Less than 80%
Flashing Green: Battery charging, more than 80%
Solid Green: Battery fully charged.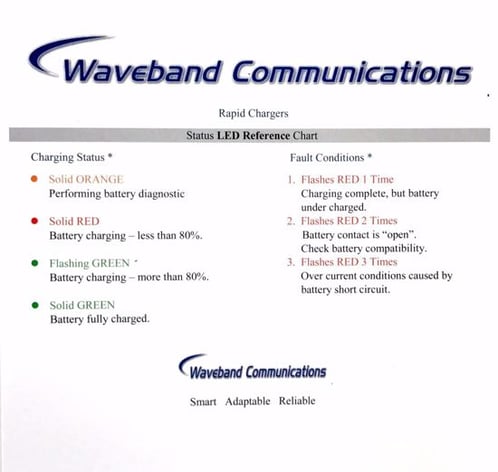 If you find a flashing red LED status on your charger, three things could be happening.
Flashing Red 1 Time: Charge is complete but battery was under charged.
Flashing Red 2 Times: Battery contact is open and you need to check battery compatibility
Flashing Red 3 Times: Over current conditions cause by a short circuit from the battery
It is important for the battery that you solve these issues to save the life and capabilities for your radio.
How do I know which radio is compatible with my chargers?
Accessories must be compatible with the radio or they won't work correctly, so finding the correct accessory can be complicated. We have made a comprehensive charger guide that helps you find the right charger for your radio.